Jeremiah Devitt receives a letter quoting the slogan of the secret club he was a member of at St. Gall boarding school.
Background Story
[
]
At some point, Anthony Beechworth, an old colleague of Jeremiah Devitt from a secluded boarding school in Scotland, who currently lives in Beechworth Manor in Sussex, starts behaving strangely. On 5 March 1891, Anthony wants his service, Mr. and Mrs. Brewer, to remove religious objects from the house. As of 18 May 1891, Anthony complains about Alphie the cat. He wants the cat to be kept out of the house. The Brewers care for the cat and feed it. At some point, Anthony blinds the cat because he thinks that it knows his secrets and persecutes him. As of 15 September 1891, Anthony spends days locked in his office. He barely eats anything. At this point or earlier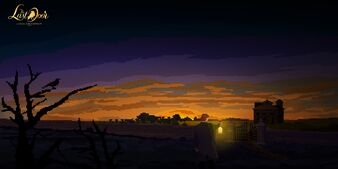 he probably conducts chemistry experiments. Some time later, Anthony's behavior becomes disturbing enough that the Brewers leave his service. A few days later, Anthony's wife, Anna, writes a letter to her friend, Margaret. Not long thereafter, she dies in her bed. Bereft of all hope, Anthony writes Devitt a letter before hanging himself.
Full Summary
[
]
The pilot episode of The Last Door. This chapter takes place in Anthony Beechworth's estate. Jeremiah decides it's time to check upon his old friend after receiving a very disturbing letter. After reading the letter Jeremiah takes the first train toward Sussex, where his old boarding school friend currently resides.
When he arrives at his friend's mansion, he notices that the building is completely abandoned. The staff has left because of recent events and Anthony is nowhere to be found. Another strange thing is that on the first floor one of the doors are barricaded.
In the backyard, Devitt finds a group of crows feasting upon an unidentified object. He can't go near the object because the crows are very aggressive..
After investigating the house, Devitt finds some tools to open the barricaded door and finds the corpse of Anna in a bed. She appears to be the late wife of Anthony. Devitt also finds some clues in scattered notes around the mansion. The notes tell him that Anthony was behaving very odd lately. He locked himself in his room, forbid all religious items and rituals inside his estate and didn't eat properly. His wife also seemed to be having some issues herself. She became obsessed with the portraits of Anthony's relatives. She figured they didn't think she was worthy of Anthony or was is another entity that was silently judging her?? When Devitt finds himself a way to get to the attic he finds the corpse of his beloved friend Anthony. He hang himself in the attic. Right after Devitt finds Anthony, the corpse gets attacked and devoured by a very vicious and ferocious flock of crows.
Other notes (by kpr007)
[
]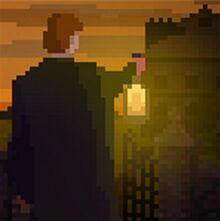 Ok, the great question for this episode events, and in the context of next ones, is: why now? Why things are happening now? Why not right after events revealed in Episode 2? At this point some may blame it on some mental illness. Sudden madness. Notes may suggesting it. We know that for at least seven, eight months Anthony was behaving strangely and his condition was getting worse and worse. He felt pursued. We know now that some unnatural forces are involved. So we left madness on the side track (at least a madness considered as a reason of everything that happens). Anthony was afraid. I believe he had a feeling something is coming for him. And perhaps something was. That is why he had a map in his office with markings of events described in press articles. Chemical remainings suggest that he was working on something. I don't think that he or his wife were possessed by some entity and brought to death. That were they own actions. I like it that way that his wife died of her despair and hopelessness.Last, but not least. Moreover, the thing I think loved the most about episode 1. The lynx figure. There is no coincidence that lynx was used, not some other cat. You may think that course of actions needed to finish first episode is simply collection of riddles, and what matters for whole story in episode 1 is only beginning, crows and ending. In fact, all this cat and lynx fragments are cute story background. Wikipedia states that lynx:
"is considered an elusive and mysterious creature, known in some American Indian traditions as a 'keeper of secrets'. It is also believed to have supernatural eyesight, capable of seeing even through solid objects. As a result, it often symbolises the unravelling of hidden truths, and the psychic power of clairvoyance."
I think that Anthony considered lynx as some kind of "guardian spirit", a symbol of his quest for knowledge and truth. He even had stuff lynxed. When he became disturbed, he started to perceive his cat Alfie as threat. He gave it mythological powers of a lynx. The lynx stopped to be a symbol of unearthing the truth, it became a reminder of what Anthony did, a remorse, a guilt. The cat knew. And didn't want to stop talking about it. That is why Anthony blinded the cat, changed the painting closing lynx mouth and (perhaps) cut off tongue of stuffed lynx. In the last glimpse of sanity, Anthony decided to stop fighting and killed himself. Like in the wife case. I prefer it that way that supernatural powers had nothing to do with it. Cat wasn't possessed. It was only Anthony madness and guilt that affected his perception of reality.
Notes
[
]
Reception
[
]
Critic reviews
[
]
 80% 148Apps    
Rob Rich  
October 22, 2013
The Last Door proves that a game doesn't need high-resolution visuals to pull players into a truly disturbing atmosphere.
Read full review
 80% AppFolder    
Demio-8  
November 25, 2013  (Japanese)
Even in recent years as games have progressively higher definition displays and realizations, the game is a dot picture. I feel that it's sublimely charming and one of the game's strengths.*
Read full review
 favorable Bit Rebels    
My experience with this game has been extremely positive. The quality of a point and click adventure game ultimately depends on the plot and the puzzles, and The Last Door nails both.
Read full review
Personal blog reviews
[
]
 90% Focker Blog    
November 24, 2013  (Hungarian)
A superb tailor-made adventure game that has been blessed with a brilliant atmosphere that is unparalleled among today's adventure games.*
Read full review
 favorable Mouse at Home (עכבר בבית)    
Tamara  
July 21, 2013  (Hebrew)
You have to look at each screen as you look at Impressionist painting - from close up it looks like simple patches of color, and only from a distance can you see their meaning.*
Read full review
 favorable Party Loaded    
Luke  
August 8, 2016  (podcast)
For a point and click puzzle game to make me actually jump out of my skin, two thumbs up.
Read full review
 favorable pixelpunsch    
Markus Grundmann  
July 2, 2013  (German)
An homage to the literary and film genre of classic horror, in which true horror is not on the screen but inside the viewer's head.*
Read full review
Awards and Recognition
[
]
Walkthroughs
[
]
Let's Play
[
]