In Chapter 5, Conghill and Skidd described the Battle of Majuba Hill. The battle occurred in South Africa on February 27, 1881. The British forces were massacred, effectively ending the First Boer War.[1]
In the game, Conghill and Skidd served in Her Majesty's 6th Light Infantry. During the battle, everyone in their unit was killed except for Conghill and Skidd. However, it might not have been the Boer army that killed them. Conghill recounted his experience to Wakefield: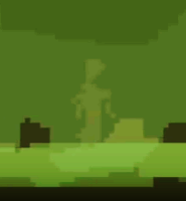 Conghill felt something nearby, which he described as "a murmur or a beating," [note 1] and he saw that all of his comrades had died. Only Skidd was missing. When Wakefield found Skidd, he corroborated Conghill's story:
In
Chapter 8
, Devitt and Alexandre described this encounter to the other members of
The Playwright
.
"[Skidd's] results are extraordinary, Anthony. It is the best chance we have of avoiding the gaze of the Custodian."
—Devitt
"There can be no doubt that the Captain survived an encounter before. He even kept a companion from harm."
—Alexandre
Historical Sources
Edit
According to historical accounts of the battle, a dense mist formed at dusk, like Conghill described.
References
Edit
↑ The Battle of Majuba Hill (Wikipedia)
Community content is available under
CC-BY-SA
unless otherwise noted.