Little Cattie used to be a famous child performer. Together with her father, she performed and practiced a lot. They were very successful, although it was clear Cattie was the real star of the duo. As Cattie became more famous, her father became more demanding. He became obsessed with perfection and pushed her to her limits. This resulted in Cattie having no time to play or be a kid. When she could, she would hide in the infinite fog of Old Nichol Street Rookery, 'as there were no faces there'. Eventually Cattie had a severe mental breakdown and as a result she murdered her father.
Devitt found Cattie sitting on her bed when he was trying to find his way out of the labyrinth. When he asked her for directions, she replied in a weird way. Cattie mentally never grew out of childhood. She wanted to play hide and seek with Devitt, who had to stand with his face to the wall and count to 3. Every time he counted to three, he was shown a mental image of how Cattie and her father used to perform. But in the last image he saw her killing her father. She had written "one more song" with her father's blood. In Cattie's closet, he found a dress that resembled the dress that Daphne used to wear.
Devitt also found her journal in this room.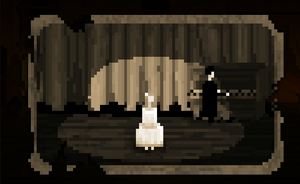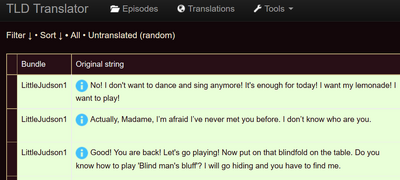 The TLD translator tool suggests that Cattie's surname might be Judson.
Community content is available under
CC-BY-SA
unless otherwise noted.